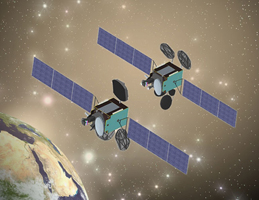 Reston, VA, USA./Tokyo, Japan, April 5, 2011 – International Launch Services (ILS) and Mitsubishi Electric Corporation (MELCO) of Tokyo, Japan, announced a new contract today for the launch of Turksat 4A and Turksat 4B on ILS Proton. Turksat 4A is scheduled to launch in late 2013 and Turksat 4B in early 2014.
Each satellite will weigh approximately 3800 kg, and will be built on MELCO's DS2000 standard comsat platform. The design life of 15-year on orbit service of the satellites will provide telecommunication and direct TV broadcasting services throughout Turkey, as well as in Europe, Central Asia, the Middle East and Africa. Turksat AS satellite operator will use Turksat 4A at its core 42 degrees east orbital position. Turksat 4A would include Ku-band transponders for television broadcasting, and an undisclosed number of C- and Ka-band channels. Turksat 4B will be operated at 50 degrees east position.
The Proton vehicle, built by ILS majority owner Khrunichev State Research and Production Space Center, is Russia's premier heavy-lift launcher and has a heritage of 363 flights since the 1960's.  Proton has launched 29 successful consecutive missions since mid-2008.
"We are extremely pleased to be working with our new customer MELCO and look forward to integrating and launching Turksat 4A and Turksat 4B on ILS Proton. We are committed to MELCO in their responsibility to deliver both satellites on orbit on time for their customer, Turksat," said ILS President, Frank McKenna.
Hiroyuki Inahata head of space systems division for MELCO stated: "We selected ILS based on their track record of  reliability, precision, launch tempo and experience. ILS and Khrunichev's reputation for quality assurance and delivery performance will be crucial to our delivery of the Turksat 4A and 4B satellites. We have been preparing mutual compatibility efforts with ILS for many years, and look forward to preparing to launch on the powerful ILS Proton vehicle, which satisfies the customer requirements."