On June 5, 2012,  International Launch Services (ILS) presented a 1/25th scale ILS Proton rocket model for display in the SES Isle of Man office. Attendees from SES included Mark Guthrie, Vice President SES Satellite Leasing Ltd, along with several SES team members.
The ILS Proton model signifies ILS' long-standing relationship with SES, dating back to the first ILS Proton launch with the Astra 1F satellite in 1996, as well as the successful partnership and teamwork of ILS, Khrunichev and SES in launching 20 satellites in the SES fleet to date.
ILS and SES have partnered on several industry "firsts" together including a unique Multi-Launch Agreement, signed just 5 years ago, to ensure access to space. This agreement has since been extended well beyond its original timeframe. In addition, SES participated in the first ILS Proton duo launch in July of last year with the launch of SES-3 paired with KazSat-2.  SES-3 was placed into Geostationary Transfer Orbit (GTO), while KazSat-2 was directly injected into Geosynchronous Orbit (GSO).
Following the SES-4 satellite launched in February of this year, ILS will soon be celebrating its 21st satellite launch with SES. The SES-5 satellite is scheduled to launch in June from the Baikonur Cosmodrome. This event will demonstrate another principal moment as SES-5 carries the first hosted L-band payload for the European Geostationary Navigation Overlay Service (EGNOS). EGNOS was developed by the European Space Agency (ESA) and the European Commission (EC) to support the navigational system in Europe.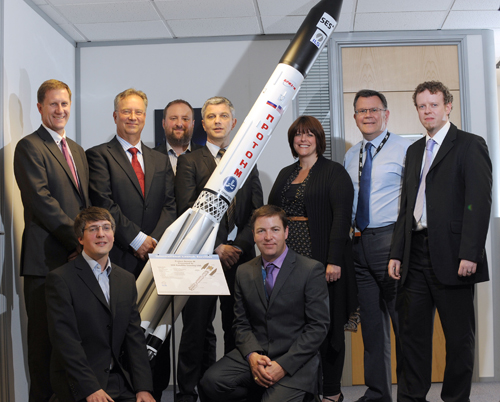 For more photos click here