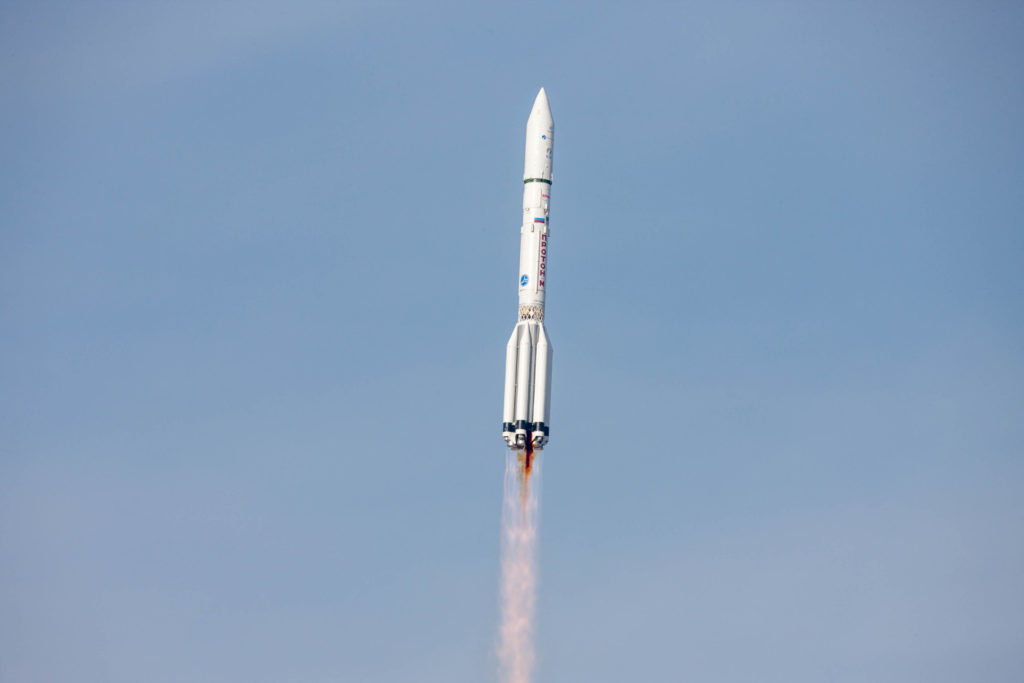 BAIKONUR COSMODROME, Kazakhstan, 9 October 2019 — International Launch Services (ILS) has successfully inserted the EUTELSAT 5 West B and the Mission Extension Vehicle-1 (MEV-1) satellites into their planned Supersynchronous Transfer Orbits (SSTO) for Eutelsat of Paris, France, and SpaceLogistics LLC of Dulles, Virginia.
Today's launch was the 97th ILS Proton mission and over 420 Proton launches overall. It is the eighth Eutelsat satellite launched on an ILS Proton and the first SpaceLogistics LLC satellite launched on an ILS Proton. It was also the second ILS dual launch, and the first dual launch with two commercial satellites.
The Proton Breeze M, utilizing a 5-burn SSTO mission design, launched from Pad 39 at the Baikonur Cosmodrome on 9 October at 15:17 local time (10:17 GMT and 06:17 EDT). The satellites are both manufactured by Northrop Grumman and based on the GeoStar-2 (EUTELSAT 5 West B) and GeoStar-3 (MEV-1) platforms. The two spacecraft, making up the Integrated Payload Stack, weighed 5,190 kg at liftoff, and were separated 15 hours, 36 minutes (EUTELSAT 5 West B) and 15 hours, 54 minutes (MEV-1) after liftoff. Operators at the Northrop Grumman operations center in Dulles, Virginia acquired the spacecraft's first telemetry from orbit shortly after separation.
EUTELSAT 5 West B is a Ku-band satellite that will be located at 5° West, a key video neighborhood addressing predominantly French, Italian and Algerian broadcast markets. The new satellite will provide business continuity and improved quality for these markets via a Ku band payload of 35 equivalent 36 MHz transponders connected to three service areas. Switchable transponders will also increase commercial flexibility.
MEV-1 will deliver a groundbreaking on-orbit servicing satellite life-extension through Northrop Grumman's wholly-owned subsidiary SpaceLogistics LLC. MEV-1 will dock to client vehicles in geosynchronous orbit to provide attitude and orbit control of the combined vehicle stack. MEV-1 has the ability to dock and undock several times during its 15 year design life, allowing it to service multiple customers. SpaceLogistics LLC's initial service, using MEV-1, will extend the life of the Intelsat 901 satellite for five years.
Since its maiden flight in 1965, the workhorse Proton vehicle has demonstrated its versatility, maturity and performance to inject spacecraft into a wide variety of orbits for a diverse customer base. The Proton Breeze M vehicle is developed and built by Khrunichev Research and Production Space Center (Khrunichev) of Moscow, Russia's premier space industry manufacturer and majority shareholder in ILS.
ILS President Kirk Pysher said: "ILS would like to extend our heartfelt congratulations to the entire Eutelsat, Northrop Grumman, SpaceLogistics and Airbus Defence & Space teams on this outstanding success. I would also like to thank the teams at Roscosmos, Glavkosmos, GK Launch, Khrunichev, ILS and all of the various contractors and suppliers who support Proton and made this successful mission possible. We are all very thankful and proud to play an important role in our customer's continued success." Pysher added: "This mission is Proton's 18th consecutive success bringing Proton's five year reliability to 95.6%. With today's added demonstration of Proton dual launch capability, ILS looks forward to supporting a broad range of changing spacecraft requirements."
Yohann Leroy, Deputy CEO and Chief Technical Officer at Eutelsat, said: "Eutelsat is delighted to be back at Baikonur for another successful launch. Our congratulations to ILS and Khrunichev for this top-class dual "stacked" launch! I would like also to thank our partners Northrop Grumman and Airbus Defence and Space for their collaboration in creating this technological gem, that will soon serve the French, Italian and Algerian markets with the highest quality video broadcasting. I would also like to welcome aboard EUTELSAT 5 West B the European GNSS Agency (GSA)'s EGNOS payload, set to greatly improve the accuracy of geolocation systems such as GPS or Galileo."
"The launch and eventual docking of MEV-1, the industry's first life extension vehicle, demonstrates Northrop Grumman's and SpaceLogistics' ability to innovate and deliver game changing technology. We are proud to have partnered with the ILS and Eutelsat teams who worked long and hard to ensure mission success," said Tom Wilson, President, SpaceLogistics LLC. "MEV-1 marks the first step towards introducing even more advanced on-orbit servicing capabilities and services for our customers."
About ILS
ILS provides launch services for satellite operators and offers a complete array of services and support, from contract arrangements, mission management and on-orbit delivery. ILS markets the Proton Breeze M and Angara 1.2 launch services to commercial and government satellite operators worldwide. ILS is a U.S. company headquartered in Reston, VA, near Washington, D.C.
For more information, visit: www.ilslaunch.com,
Twitter: @ilslaunch,
Facebook: https://www.facebook.com/ILSLaunch/,
Instagram: https://www.instagram.com/ilslaunch/,
YouTube: https://www.youtube.com/user/ilslaunchservices
About Eutelsat
Founded in 1977, Eutelsat Communications is one of the world's leading satellite operators. With a global fleet of satellites and associated ground infrastructure, Eutelsat enables clients across Video, Data, Government, Fixed and Mobile Broadband markets to communicate effectively to their customers, irrespective of their location. Over 7,000 television channels operated by leading media groups are broadcast by Eutelsat to one billion viewers equipped for DTH reception or connected to terrestrial networks. Headquartered in Paris, with offices and teleports around the globe, Eutelsat assembles 1,000 men and women from 46 countries who are dedicated to delivering the highest quality of service.
Eutelsat Communications is listed on the Euronext Paris Stock Exchange (ticker: ETL).
For more about Eutelsat visit Eutelsat.com.
About SpaceLogistics LLC
SpaceLogistics LLC, a wholly owned subsidiary of Northrop Grumman, provides in-orbit satellite servicing to geosynchronous satellite operators using its fleet of commercial servicing vehicles. Their initial servicing vehicle, the Mission Extension Vehicle (MEV)™ docks with customers' existing satellites providing the propulsion and attitude control needed to extend their lives. For more information, visit Spacelogistics.com.
####
Media inquiries: Contact: Peter Stier, Vice President of Sales, International Launch Services, Reston, VA; mobile: +1 571 363 6293; p.stier@ilslaunch.com. Visit the ILS web site at www.ilslaunch.com.