For the Satmex 8 mission control please click here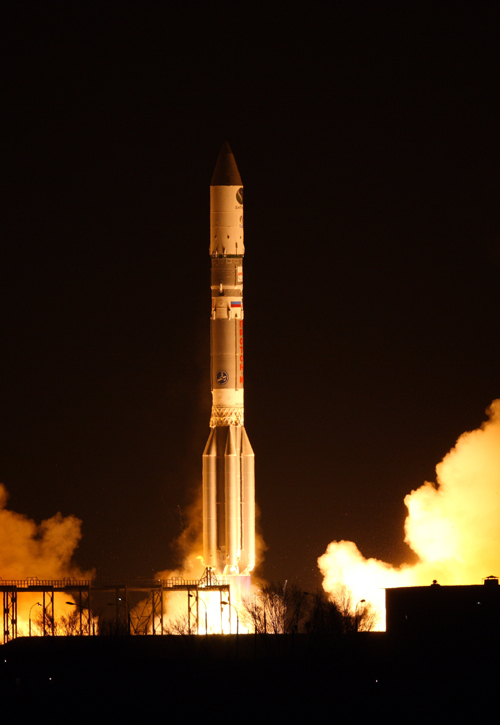 BAIKONUR COSMODROME, Kazakhstan, March 27, 2013 – International Launch Services (ILS), a leader in providing mission integration and launch services to the global commercial satellite industry, today announced that it has successfully carried the Satmex 8 satellite into orbit on an ILS Proton launch vehicle for Satélites Mexicanos S.A. de C.V. (Satmex) of Mexico City, Mexico.
The ILS Proton Breeze M vehicle launched from Pad 39 at the Baikonur Cosmodrome at 01:07 today local time (19:07 GMT and 15:07 EDT on March 26). Utilizing a standard 5-burn Geostationary Transfer Orbit (GTO) mission design, the Breeze M successfully released the Satmex 8 satellite into orbit 9 hours and 13 minutes after launch. The satellite, built on the flight-proven 1300 platform, weighed nearly 5.5 metric tons at liftoff and was the 25th Space Systems/Loral (SSL) satellite launched on an ILS Proton rocket. This was also the first Satmex satellite launched by ILS and the first ILS Proton launch of the year.
Satmex 8 will replace Satmex 5 and will provide enhanced performance and capacity in North, Central and South America at 116.8 west longitude. This new high-power, fixed service satellite has 24 C- and 40 Ku-band transponders, and will improve the current continental and regional services for video contribution and distribution, broadband, cellular backhaul and distance learning.
Satmex 8 adds 45% of total capacity over Satmex 5 which translates to 94% of increased capacity on Ku band to fulfill the growing demand for satellite services in the Americas.
This was the 384th launch for Proton since its maiden flight in 1965 and the 78th ILS Proton launch. The Proton Breeze M vehicle was developed and built by Khrunichev Research and Production Space Center of Moscow, Russia's premier space industry manufacturer and majority shareholder in ILS.
"We want to thank Satmex for entrusting us with the launch of the Satmex 8 satellite. We also want to express our sincere appreciation for the ILS, Khrunichev, Satmex, and SSL teams for their tireless work in ensuring the mission's success," said ILS President Phil Slack.
Satmex President and CEO Patricio Northland added, "We are delighted with the successful ILS Proton launch and orbit of Satmex 8, the latest satellite in our expanding fleet. Satmex offers fixed satellite transmission services to more than 90% of the population in the Americas, and this important addition will provide enhanced performance and capacity to our coverage areas. It also positions us well for future launches of advanced models that will mark step-change expansions in our capabilities. Our sincere gratitude goes to all those who played a role in building and orbiting the Satmex 8 satellite."