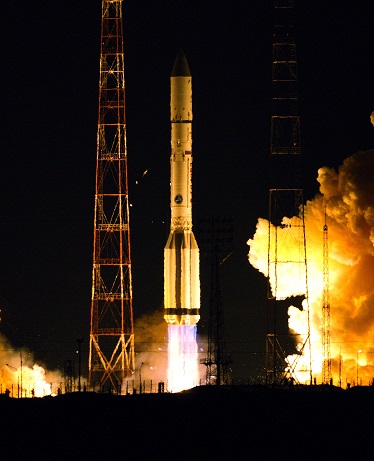 BAIKONUR COSMODROME, Kazakhstan, December 15, 2014 – International Launch Services (ILS), a leader in providing mission integration and launch services to the global commercial satellite industry, successfully launched the Yamal-401 satellite into geosynchronous orbit today on an ILS Proton for JSC Gazprom Space Systems (Gazprom) of Moscow.  This was the landmark 400th mission for the Proton launch vehicle since its first flight in 1965.
The ILS Proton Breeze M vehicle launched from Pad 24 at the Baikonur Cosmodrome at 6:16 a.m. today local time (00:16 GMT and 7:16 p.m. EST on December 14).  The first three stages of the Proton vehicle used a standard ascent profile to place the orbital unit (Breeze M upper stage and the Yamal-401 satellite) into a sub-orbital trajectory. Utilizing a 4-burn Breeze M flight design, the Breeze M performed its planned mission maneuvers to advance the orbital unit first to a circular parking orbit, then to an intermediate orbit, followed by a transfer orbit, and finally to a geosynchronous orbit where the satellite was successfully separated from the Breeze M. The satellite, weighing nearly 3 metric tons, was built by JSC ISS Reshetnev on the Express 2000-A platform.  In collaboration with JSC ISS Reshetnev, Thales Alenia Space was responsible for the repeater, antennas, parts of the satellite platform, and support to the customer for satellite AIT in Siberia and Baïkonur.
At an orbital location of 90° East longitude, the Yamal 401 communications satellite will provide services to users in Russia and CIS countries. The total capacity of the Yamal 401 satellite will amount to 53 physical transponders or 88 equivalent (36 MHz) transponders, which will compose one fixed beam in C band and two fixed beams in Ku band. JSC Gazprom Space Systems has ensured the development of the ground infrastructure to control and operate the satellite.
Phil Slack, president of ILS commented, "We thank Gazprom for the opportunity to launch this important satellite and to help expand their business with the launch of Yamal 401, the second launch for Gazprom by ILS. We are grateful for the mission teams of Gazprom, ILS, Khrunichev, ISS Reshetnev and Thales Alenia Space for their dedication to mission success throughout the entire campaign."
This was the 86th ILS Proton mission overall and the 2nd ILS Proton launch of 2014. The Proton Breeze M vehicle is developed and built by Khrunichev State Research and Production Space Center of Moscow, the majority shareholder in ILS.