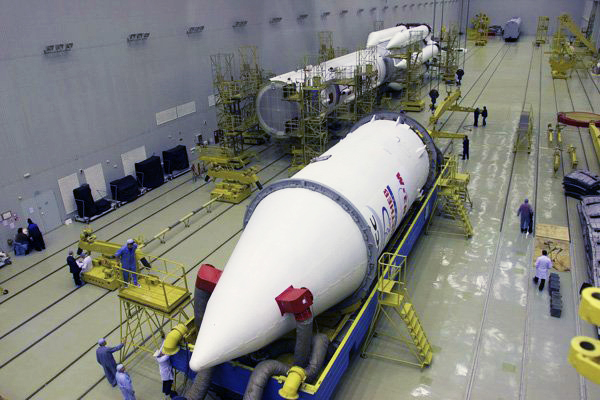 MAY 16, 2019, WASHINGTON D.C. – The following is a press release from Khrunichev Space Center: Preparations to launch the Proton M vehicle with the Russian Yamal-601 communications satellite manufactured by France's Thales Alenia Space for the Russian satellite operator, Gazprom Space Systems, have been ongoing as planned at the Baikonur Cosmodrome.
Standalone processing of the Proton M booster, Yamal-601 spacecraft, Breeze M Upper Stage, adapter system and payload fairing is currently underway at the launch site to be followed by integration as part of the integrated launch vehicle.
In accordance with the launch campaign schedule, operations to load propellants into the Yamal-601 spacecraft were completed on May 14. Yamal-601 will be transferred into the ascent unit integration area upon completion of the final electrical checkouts.
Last week Russian and international teams successfully conducted the adapter system fitcheck. This is the system that will enable the spacecraft to be mounted on top of the Breeze M Upper Stage. Follow-up checkouts validated mechanical and electrical compatibility between the adapter system and the spacecraft.
Loading of compressed gases into the Breeze M high-pressure vessels has been completed as well. The Proton M booster has been integrated, passed pneumatic testing, and is ready for the subsequent sequence of electrical checkouts.
In accordance with the operations plan, the next launch campaign phase is about to begin – the integration of Proton's ascent unit which comprises the Yamal-601 spacecraft, Breeze M Upper Stage, adapter system and payload fairing.
The Yamal-601 project is a part of Russia's federal program to develop TV and radio broadcasting services on the territory of the Russian Federation. Yamal-601 will have the highest throughput capacity within the Russian orbital constellation.
The new spacecraft will replace the Yamal-202 satellite at 49 degrees East and will render fixed communications and data services in the C-band to a large portion of Russia's territory as well as to CIS countries, Europe, Middle East and South-Eastern Asia. The satellite will also provide communications and broadband access services in the KA-band to users in the Russian Federation.