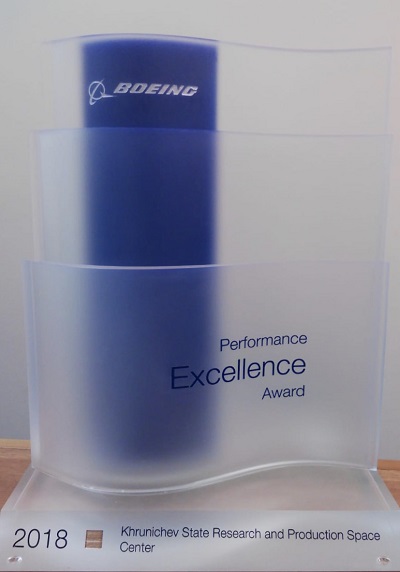 UPDATED: Khrunichev Space Center, which commissioned the Boeing Company's first block of the International Space Station (ISS), the Zarya Functional Cargo Block (FGB) more than 20 years ago, plans to extend cooperation with Boeing to further support the operation of the module. "Currently work is underway to conclude additional contracts with Boeing to ensure the operation of the module from 2021 to 2024," stated Khrunichev's press department.
Negotiations were held in June between Khrunichev and Boeing on fulfilling obligations of the current contract and completing key stages of accepting equipment intended for the full-time operation of FGB Zarya.
Khrunichev was the recipient of Boeing's 2018 "Performance Excellence Award" for its work in ensuring the operation, modernization and completion of the Dawn equipment being replaced in orbit. Boeing presents the award to its suppliers for full compliance with the quality standards of production and meeting the deadlines for product delivery. The contract for the creation of the FGB was signed in October 1994 with Lockheed. In 1995 the subcontract for the FGB was transferred to Boeing as the main contractor for the ISS.
ILS is a subsidiary of Khrunichev, which was founded in 1916 and headquartered in Moscow.
SOURCE: INTERFAX and International Launch Services