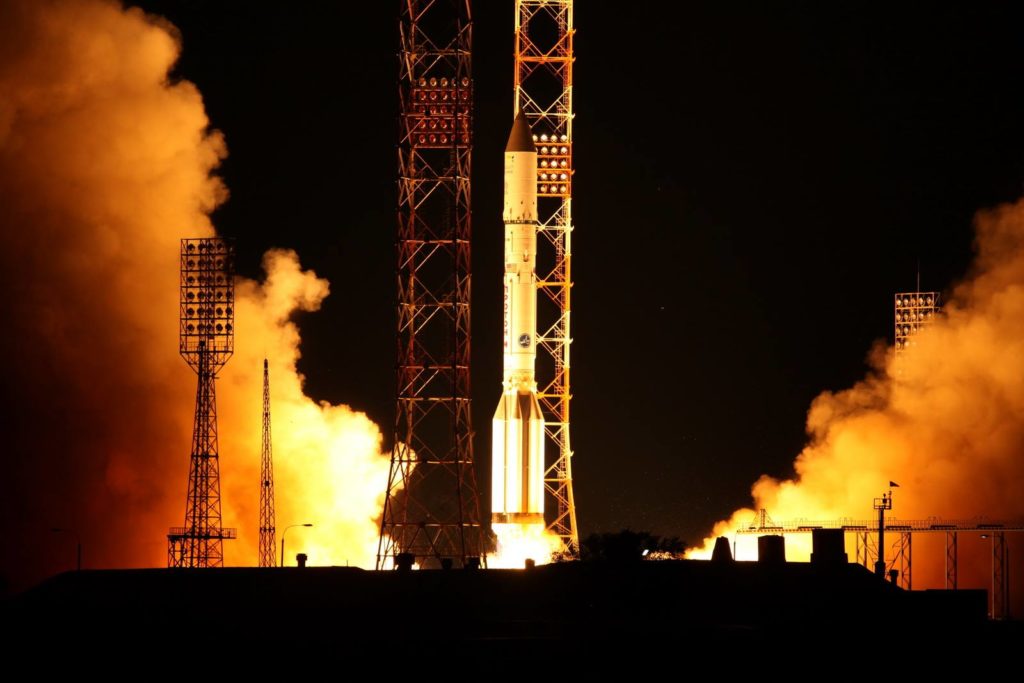 The following press release was published by Khrunichev on March 6, 2019: One of the top priorities at Khrunichev State Research and Production Space Center (Khrunichev Center) is to ensure the quality and reliability of the Proton launch vehicles.
The three-stage upgraded Proton M Launch Vehicle (LV) outfitted with a Breeze M Upper Stage is currently the main Russian vehicle used to launch unmanned spacecraft to high Earth orbits and Earth-escape trajectories for both Federal and commercial space programs.
In collaboration with Roscosmos State Corporation, Khrunichev Center developed a three-year "Program to Maintain Proton M LV and Breeze M Upper Stage Reliability during the 2016-2018 timeframe."
Andrei Pankratov, Khrunichev Center Deputy Director General for External Economic Affairs, spoke about the results of implementing the program at the Tenth International Russian Aviation and Space Insurance Conference that took place on February 20-21, 2019 and was organized by the Russian Association of Aviation and Space Insurers (RAASI).
Nearly 60 activities have been implemented under this program. The scope of activities includes identifying, analyzing and eliminating defects and malfunctions in the process of manufacturing and operating rocket and space equipment, updating design and operational documentation, and Proton M/Breeze M component quality improvement measures.
"The activities and initiatives developed to ensure fault-free Proton LV operations have been fully implemented. The results of these activities are evidenced by the 14 successful Proton M launches completed since May 2015," stated Pankratov.
The comprehensive effort to ensure reliability of Proton M launches will continue. Roscosmos and Khrunichev Center management came to a decision to develop a similar program aimed at the reliability and capability of the Proton M/Breeze M system for the next three-year period (2019 to 2021).
There have been 418 launches of the Proton Launch Vehicle in various configurations using a variety of upper stages, since it first became operational in 1965.
The first time the Proton M vehicle was launched in conjunction with the Breeze M Upper Stage was in 2001. Since then, both the Proton M and Breeze M underwent four phases of substantial upgrades aimed at increasing performance for heavy single and dual payload launches.
There have been 104 launches completed since Proton M became operational.
There are at least 6 Proton M launches scheduled for 2019.