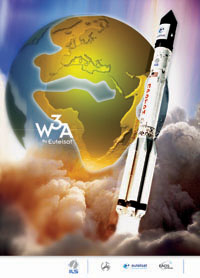 Vehicle: Proton M/Breeze M
The Satellite
Satellite Operator: Eutelsat S.A.
Satellite Manufacturer: EADS Astrium
Purpose: Various Services including Distance Learning, Telemedicine and Internet
Platform: Eurostar E3000
Separated Mass: 4250 kg
Satellite Design Life: 15+ years
Highlights
7th ILS launch for Eutelsat
28th ILS Proton launch
304th Proton launch
Latest News
ILS Successfully Launches W3A Satellite
Launch Resources
Final Details of the Launch and Separation
The Proton vehicle lifted off at 4:06 a.m. local time on March 16 (March 15: 18:06 EST, 23:06 GMT).
The Breeze M's engine underwent five burns to place the W3A satellite into a geosynchronous transfer orbit at 1:16 p.m. Baikonur time, March 16 (03:16 EST, 08:16 GMT).
Separation of the W3A satellite occured approximately 9 hours and 10 minutes after liftoff.
Orbit Parameters: Predicted: 3978 km x 35,786 km x 13.0 degrees.
SC Separation
Fifth Burn
Fourth Burn
APT Jettison
Third Burn
Second Burn
First Burn
Stage Separations
Liftoff
Rollout to Pad 39
Breeze M Fueling
Begin Joint Operations
SC Fuel Loading
Breeze M Arrival
SC/GSE Arrival
Proton Arrival
Early Team Arrival